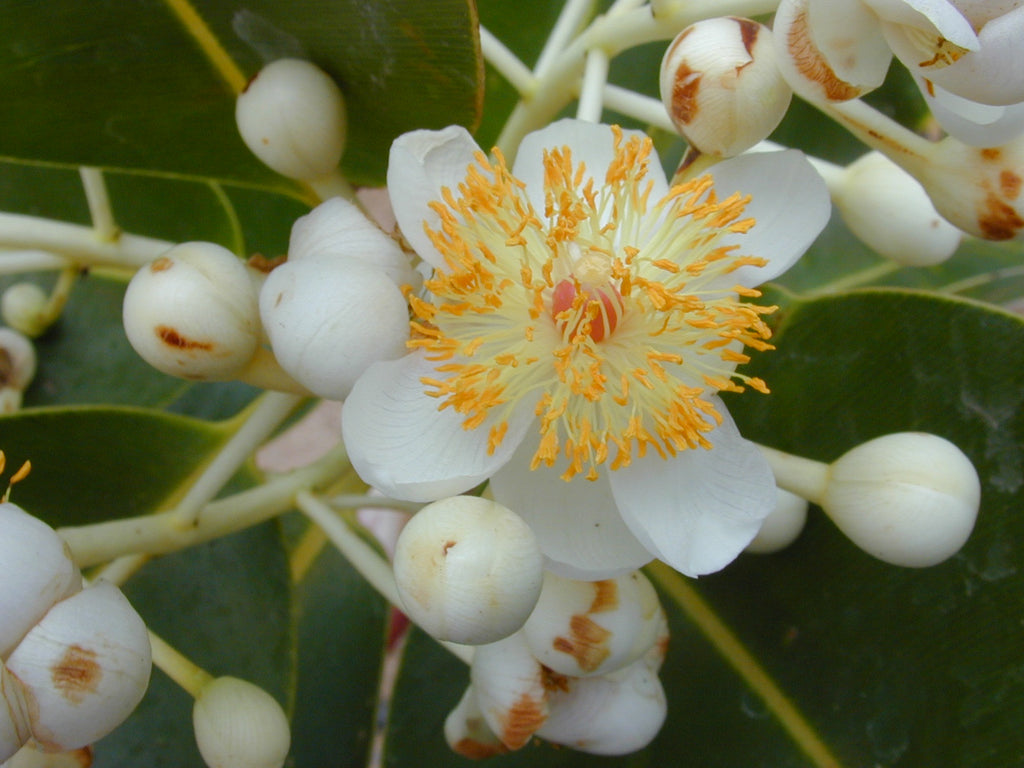 Tamanu (Foraha) Unrefined
Organic Unrefinded Tamanu (Foraha) Oil (Calophyllum inophyllum) 
(Sold by the oz and stored in blue glass bottles)
Rich in vitamins,Tamanu has the usual triglycerides and plant compounds fround in many oils but also has unusual and exceptional properties.  In addition to commonly occuring oleic, linoleic, palmitic, and stearic acids, tamanu also contans the wholly new calophyllic fatty acid, as well as glycolipids (lipids with starches attached and phospholipids. A new phyto compound, calophyllolide, unique to the tree and oil, is strong anti-inflammatory and healing agent. With it's unusal composition, tamanu oil absorbs deeply in to all three layers of the skin, where it has been demonstarted to rapidly regenerate new skin, repair nerves and diminish scarring.  Useful for sciatica, rheumatism, shingles, eczema, psoriasis, chapping, burns, cracked skin, fissures, and infections. Anti-inflammatory, anti-baterial, and analgesic, while being non-toxic and non-irritating..
Aroma ~  Earthy and nutty, butterscotch aroma. 
Extraction ~ Cold Pressed, unrefined
Country of Origin ~ Vietnam, Indonesia, Madagasca
More Information about Tamanu and Uses
 Key Search Words:  Anti-inflammatory, regenerating, softening, soothing, protective, healing, moisturizing, improves blood circulation, prevents skin aging.    
 "Aromatherapy is an incredible healing art and science that supports and enhances the individuals' ability to heal and maintain health. Aromatherapy is not a substitute for medical treatments and it's recommended that you see a qualified professional for any physical or mental conditions. We do not recommend internal use of essentials oils."   
---
Share this Product
---
More from this collection