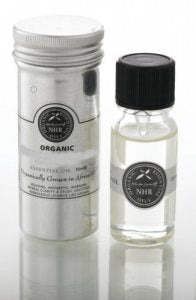 "Thieves" Organic Essential Oil Blend
Organic "Thieves" Essential Oil Blend 
(Contains certified organic essential oils of: Tea Tree (Melaleuca alternifolia) Eucalyptus Radiata (Eucalyptus radiata) Rosemary (Rosmarinus officinalis) Cinnamon Bark (Cinnamomum zeylanicum) Lemon (Citrus limon) Clove Bud (Eugenia caryophyllus) )
'Thieves Oil' is a fresh and fragrant blend of pure organic essential oils traditionally used in the winter season to help support the immune system and aid the body's natural defences against illness.. Useful for indecision and encouraging purposefulness and clarity.
Caution ~ Avoid in pregnancy or with high blood pressure or epilepsy. Use with care on sensitive skin.
Aroma ~ Fresh, piercing, herbaceous, spicy.
Extraction ~ Steam distillation and cold pressing.
Uses ~Add a few drops to your diffuser for home or workplace. Can also be added to hand wash or base oils to create your own effective blends.
Organic Certificate ~ This essential oil is certified organic by the Soil Association which means you can be sure that it has been produced to the highest ethical and environmental standards. The Soil Association's standards exceed the UK government's minimum requirements for organic products in many areas, but particularly in animal welfare, GM and the use of pesticides. Standards are constantly reviewed to ensure they deal with current issues.
Soil Association Food Grade Organic Certificate ~Download
 Key Search Words: Antiseptic, antiviral, expectorant, antibiotic, analgesic, Colds, Flu, rheumatism, arthritis, aches, antifungal, bronchitis, nausea, stress, recovery from infections, muscular weakness, poor circulation, diuretic, sinus problems, fatigue, immunostimulant, decongestant, detoxification
"Aromatherapy is an incredible healing art and science that supports and enhances the individuals' ability to heal and maintain health. Aromatherapy is not a substitute for medical treatments and it's recommended that you see a qualified professional for any physical or mental conditions. We do not recommend internal use of essentials oils."   
---
Share this Product
---
More from this collection