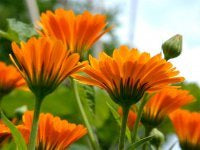 Marigold Oil
Organic Marigold Oil (Calendula officinalis / Helianthus annuus)
Marigold (also known as Calendula) infused oil is one of the most healing external preparations available to us. It has cooling, moisturizing and revitalizing properties which optimize healthy skin regeneration and soothe irritation and soreness. It's great for after-sun products or soothing baby care creams. As it also has toning properties, it has been used with good results for treating spider veins and varicosities. This macerated oil is in a base of Organic Sunflower Oil and is invaluable for all skin types. Consider this oil especially when an anti-inflammatory, healing, toning or restorative action is needed. (Sold by the oz and stored in glass bottles)
Aroma~ Mild, slightly earthy..
Extraction~Maceration 20% in Organic Sunflower Oil.
Country of Origin~ France.

 More Information about Marigold and Uses
 Key Search Words: anti-inflammatory, antimicrobial, antiviral, antibacterial, antifungal, antiseptic, vulnerary, tonic, astringent, burns, cuts, eczema, greasy skin, inflammation, insect bites, rash, wound healing, skin healing, cracked skin conditions, burns, insect bites, damaged tissue, ulcers, poorly healing wounds  
 "Aromatherapy is an incredible healing art and science that supports and enhances the individuals' ability to heal and maintain health. Aromatherapy is not a substitute for medical treatments and it's recommended that you see a qualified professional for any physical or mental conditions. We do not recommend internal use of essentials oils."   
---
Share this Product
---
More from this collection