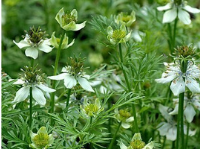 Black Cumin Oil
Organic Black Cumin Oil (Nigella Sativa seed oil)
Nourishing and strengthening. Supports the respiratory and nervous systems, encouraging vitality. Black Cumin oil has many topical uses such as skin health and nail care, and helps to heal and soothe acne & eczema. Rich in Omegas 6 & 9, vitamins B1, B2, B3, folic acid, calcium and lecithin. *Black Cumin is commonly known as 'The Blessed Seed'.
Aroma ~ Sweet, citrusy and fragrant.
Extraction ~ Cold pressed.
Country of Origin ~ Egypt.

More Information about Cumin Oil and Uses
 Key Search Words: Immune enhancer, immune supporting, asthma, bronchitis, skin disorders, boils, digestion, anemia
"Aromatherapy is an incredible healing art and science that supports and enhances the individuals' ability to heal and maintain health. Aromatherapy is not a substitute for medical treatments and it's recommended that you see a qualified professional for any physical or mental conditions. We do not recommend internal use of essentials oils."   
---
Share this Product
---
More from this collection