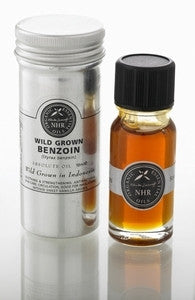 Benzoin Absolute 10ml
Wild crafted Benzoin Absolute (Styrax benzoin)
Soothing and warming. Benzoin helps soften and moisturize dry, chapped and hard skin. It can help to form a protective layer on the skin's surface and blends well with many other skin oils, including lavender and rose. Also supportive to the respiratory and urinary systems. Comforting, strengthening and stabilizing.
Aroma ~ Sweet vanilla odor.
Extraction ~ Obtained by solvent extraction from the resin.
Part of plant ~ resin which is released from the tree when the bark is incised.
Country of Origin ~ India / Thailand
Chemical Constituents ~ Coniferyl benzoate, benzoic acid, benzyl benzoate.
Certificate ~ This product is not certified as organic since it is an 'absolute'. This means that a 'solvent' is used in the extraction method, and this leaves a trace, even though this is miniscule it means that the final product is not 100% pure, it is as pure as it can be, and is currently only available as an absolute.
Material Safety Date Certificate (MSDS) ~Download
Gas Liquid Chromatography (GLC) ~Download
More Information about Benzoin Oil and Uses
 Key Search Words: dry skin, chapped skin, inflamed skin, rheumatism, stress, euphoric, flu, asthma, bronchitis, coughs, laryngitis, gout, 
"Aromatherapy is an incredible healing art and science that supports and enhances the individuals' ability to heal and maintain health. Aromatherapy is not a substitute for medical treatments and it's recommended that you see a qualified professional for any physical or mental conditions. We do not recommend internal use of essentials oils."   
---
Share this Product
---
More from this collection