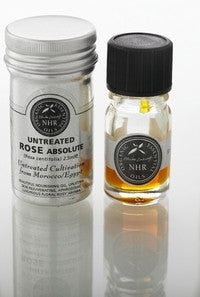 Rose - Wild Untreated - Absolute 5ml
Untreated Wild Rose Absolute (Rosa centifolia)
Luxurious and uplifting. Excellent in skin care and perfumery. It opens the heart and helps to release states of anger, anxiety or depression. One of our favorite ways to use this product is to massage a couple of drops just under the collar bones (both sides), usually there is a hollow area here, it is an area where many of us close in or contract ourselves around the heart -our shoulders hunch or become rounded). This technique supports us to open up the heart area, to become aware of when our bodies are contracting, and to be open to love!
Aroma~ Deep, Sweet rosy aroma.
Extraction~ Obtained by solvent extraction.
Part of plant~ from the petals.
Country of Origin~ Egypt/Bularia/Morocco.
Chemical Constituents~ Phenyl ethyl alcohol, citronellol, geraniol.
 Soil Association Health & Beauty Organic Certificate
Material Safety Date Certificate (MSDS)~Download
Gas Liquid Chromatography (GLC)~Download
Key Search Words: mild analgesic, antirheumatic, antiviral, cephalic, decongesting, mucolytic, stimulant, vulnerary, poor circulation, sluggish lymph, cramps, musculoskeletal swelling, arthritis, stiffness, carpal tunnel syndrome, bursitis, plantar fasciitis, neuromuscular problems, neuralgic, poor memory, headaches, hypotension, neuragia, mental fatigue, nervous exhaustion, lack of energy, mind fog, bronchitis, sinus congestion, depression, difficulty studying, 
"Aromatherapy is an incredible healing art and science that supports and enhances the individuals' ability to heal and maintain health. Aromatherapy is not a substitute for medical treatments and it's recommended that you see a qualified professional for any physical or mental conditions. We do not recommend internal use of essentials oils." 
---
Share this Product
---
More from this collection