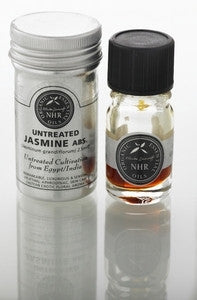 Jasmine Absolute Essential Oil 5ml
Untreated Jasmine Absolute Essential Oil (Jasminum grandiflorum)
Relaxing, and sensual. Traditionally used as an aphrodisiac, and to assist childbirth. Also useful in skincare preparations.
Aroma~ Deep, exotic, heady and floral.
Extraction~ Obtained by solvent extraction..
Part of plant~ From the flowers.
Country of Origin~ Egypt / India.
Chemical Constituents~ Benzyl, acetate, e-phytol, geranyl linalol.
Soil Association Health & Beauty Organic Certificate
Material Safety Date Certificate (MSDS)~Download
Gas Liquid Chromatography (GLC)~Download
More Information about Jasmine Oil and Uses
 Key Search Words: mild analgesic, antidepressant, anti-inflammatory, antiseptic, antispasmodic, aphrodisiac, carminative, cicatrisant, expectorant, galactagogue, sedative, tonic (uterine), dry, greasy irritated, sensitive skin, muscle spasm, laryngitis, labour pains, uterine discorders, depression, nervous exhaustion, euphoric, postpartum
"Aromatherapy is an incredible healing art and science that supports and enhances the individuals' ability to heal and maintain health. Aromatherapy is not a substitute for medical treatments and it's recommended that you see a qualified professional for any physical or mental conditions. We do not recommend internal use of essentials oils." 
---
Share this Product
---
More from this collection